21-year-old Naima Shereen Mirza just publicly denied that between May of 2012 and April 2013, she made several false claims over being raped in a public park in Edinburgh, Scotland.
The former Strathclyde University student spun a tale that she was raped by the same man twice in King George V Park over the course of a year.
She later tried to pin her poor grades at the school on the supposed attacks.
But after a nine day trial, a 12-woman, 3-man jury found her guilty of false allegations.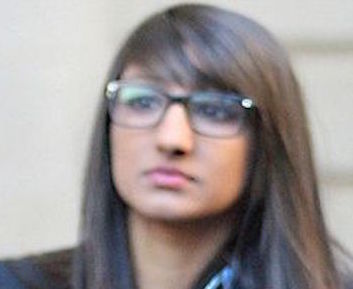 Police were initially suspicious when they discovered that the man she accusedwas already in jail during the times of the alleged attacks.
Lesley Robertson, of the Public Protection Unit, was the first to interview Mizra regarding her allegations. She described Mizra's behavior and appearance as bizarre and troubling, telling The Daily Mail:
"I had concerns about her hiding her face and running out of the room. I had the impression it was very well planned. I didn't see any real distress or anything like that."
Eventually, after hundreds of police hours spent on the case, Mizra sent a confession to one of the officers in the case, reading:
"Nothing happened. I went to the park and made it up. I wanted another year at school to get to Strathclyde University."

She later told the court that she had wanted to study forensic biology at Strathclyde University. Though Mirza had a conditional offer from them, she failed to get the 'A' in chemistry that she needed.

Edinburgh Sheriff Michael O'Grady told Mirza in court:

"For almost a year you spun a web of lies and deceit of quite remarkable scope, intricacy and forethought. Throughout that time, you caused huge amounts of public money and effort, not to mention the dedication and commitment of the police officers from whom we heard, to be needlessly expended for no other purpose than the gratification of watching them dance to your tune."

After searching her home, police reportedly found a journal where Mizra documented her increasingly bizarre thoughts and fantasies, including the names and crimes of rapists and sex offenders from around Scotland.

Mizra has been sentenced to two years in prison for the false allegations.