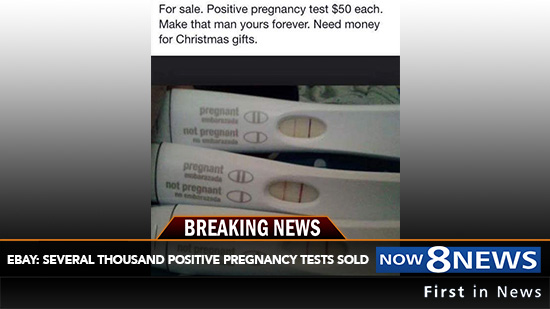 News 8 – On Tuesday, eBay released a statement that several thousand positive pregnancy test were sold via their online stores during the month of December. They report that 283 active eBay accounts were apparently run by pregnant women who were urinating on pregnancy tests and selling them to women who were trying to "make that man theirs forever."
The posts had several things in common, one of them being the sale title that read, "For sale. Positive pregnancy test $50 each. Make that man yours forever. Need money for Christmas gifts." eBay is recommending that men who were told they are going to be a dad in the month of December to ask for a "re-test" to make sure that they are not being trapped by their companion.
A spokesperson for the online shopping giant said there is not much they can do about it, as there is no policy against selling pregnancy tests, new or used. However, they are looking into changing their online terms to prevent this from happening again. If you feel you may have been a victim of a false pregnancy test, you are encouraged to go to your local store and purchase another one. To be sure, it is a good idea to wait outside of the bathroom as the test is being completed so you can watch the lines appear for yourself. Then, if the test is positive, the only thing you need to worry about is if you are really the dad or not.