LOUISVILLE, Kentucky –
Over the weekend, Jesse Cornhauler, 54, attempted to smoke 20 cigarettes at once. Most of the lit cigarettes packed tightly in his mouth fell to the carpet and quickly ignited a fire that engulfed his rented mobile home in a roar of flames.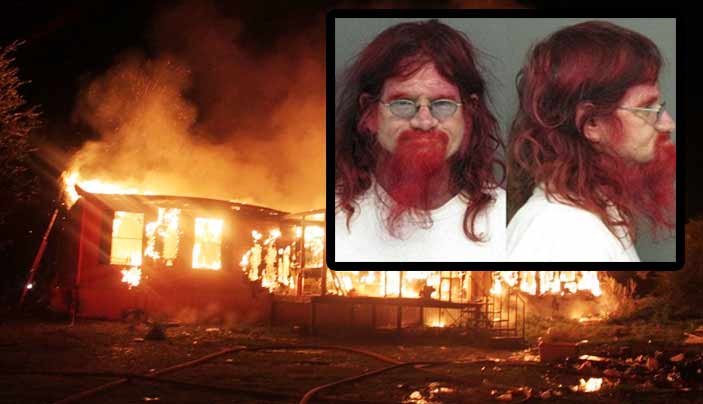 A neighbor said he observed an inebriated Cornhauler standing outside his burning home yelling: "I'm hungry! I gotta get something to eat!"
"As neighbors gathered to watch, Jesse kept asking people for marshmallows and a coat hanger to put them on," a neighbor said. "So he could toast the marshmallows in the flames. Then he wanted graham crackers and a Hershey's chocolate bar. He wanted to make smores. A week ago, I watched him cut a chicken's head off in his front yard and roast the body over a burning car tire. He's a crazy dude."
But things turned even more dangerous when Cornhauler rushed into the inferno and came back out holding a common Bic cigarette lighter victoriously above his head.
"My lighter is alive!" Cornhauler reportedly yelled at fireman who had just arrived on the scene.
Police arrested Cornhauler on a myriad of charges including public intoxication.
"Corhauler said he dared himself to smoke 20 cigarettes at once and then took his own dare," a police officer said. "That dare obviously went wrong and he started the fire. He then decided to endanger himself to "save" his cigarette lighter because he says the day he purchased [the lighter] at Speedy Mart he also won $10 on a scratch off lotto ticket. He attributes winning that $10 to this 'lucky lighter' and he felt this lighter would allow him [to] win the MegaMillions currently set at $65 million. So it was imperative he save it."
At the station, Cornhauler assaulted an officer after the officer refused to make him smores. Cornhauler was placed into solitary confinement. He suffered no injuries.