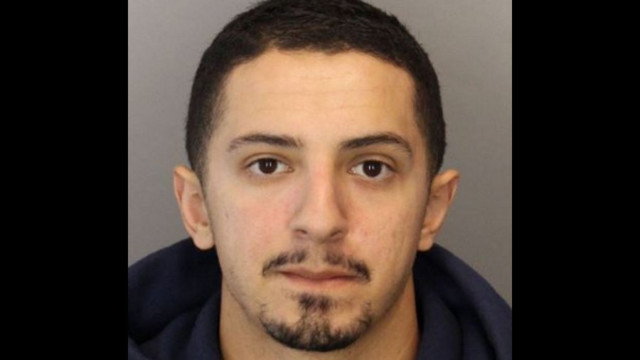 Rarely do you hear about a murder suspect willingly turning himself in, and even more rarely do you hear about him being turned away by the police when he tries to do that. But that's exactly what happened at a Santa Clara, California, jail this week.
The Mercury News says Hugo Ernesto Castro wanted to turn himself in to police on Monday. He reportedly walked into the facility, confessed to stabbing his ex-girlfriend and even turned over a note telling the deputy where her body was – but apparently it wasn't good enough.
That's because Castro turned himself in to the wrong building. Reports say a deputy at the prison told Castro he had to walk two blocks down the street and go to police headquarters instead. So Castro reportedly took the deputy's advice and walked down to police headquarters (without changing his mind) to surrender.
Related: Florida Woman Confesses To Killing And Cooking Her Neighbor
The 32-year-old said he'd strangled and stabbed 27-year-old Alessandra Barlas. Authorities said they found the victim's body after Castro said she'd been left in a San Jose condo nearby. Reports say Castro passed a hand-written note telling authorities exactly where to look for the body. It's unclear who owned the residence because the report said neither Barlas nor Castro lived in the condo.
Fortunately, deputies at Headquarters did take Castro's claims seriously, and they went out to the location, where they found the victim with stab wounds to her front torso.
The Mercury News spoke with Jim Dudley, a criminal justice lecturer at San Francisco State University who is also a retired San Francisco police captain. He said, "Once they leave, who knows what's going to happen next. Maybe they go the two blocks and turn themselves in. Or maybe they have second thoughts, or go home and destroy evidence."
Dudley added, "There's a huge downside if you let him go and he jumps on the next train out of town."
Sheriff Laurie Smith says her department is investigating the matter. Smith said, "If the initial findings are true, then the Custody Deputy failed to meet the expectations of the department and we'll take appropriate action to deal with the deputy."
At this point, Smith says the deputy who turned the murder suspect away has been reassigned while this investigation is underway.
Ironically, the report says Castro is now being held without bail at the same jail facility where he tried to turn himself in to begin with.
A motive for the killing has not been revealed.
Read more: Mercury News
Read more: USA Today