A mother has shared the heartbreaking 'goodbye' note her six-year-old son wrote before he died last week from a rare brain infection.
Little Leland Shoemake, of Pike County, Georgia, fell ill a month ago and was admitted to hospital two weeks ago. He passed away on Friday.
While he was at the Children's Healthcare of Atlanta hospital in Egleston, his mom Amber and dad Tim stayed at his bedside. 
When they finally returned home at the weekend they found his note, which read: 'Stil (sic) with you… Thank you mom and dad… Love.' He also drew a red heart that contained three words: mom, dad and love.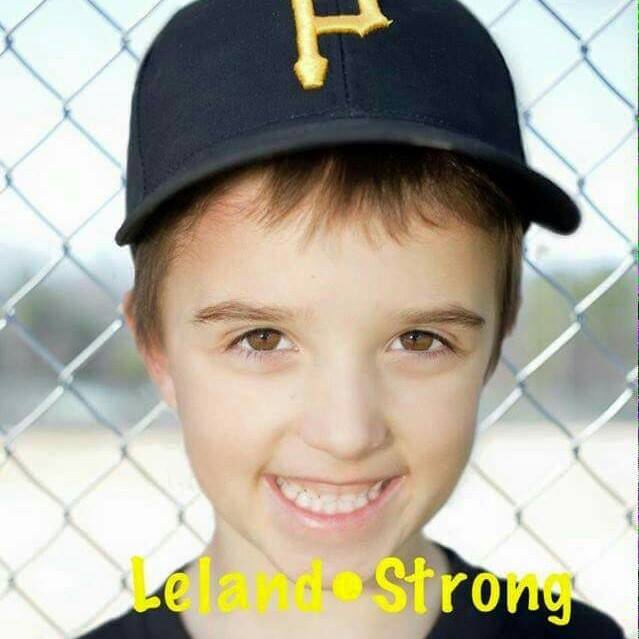 Six-year-old Leland Shoemake in a photo on the Facebook page his parents set up after he fell ill to keep family and friends informed about how he was doing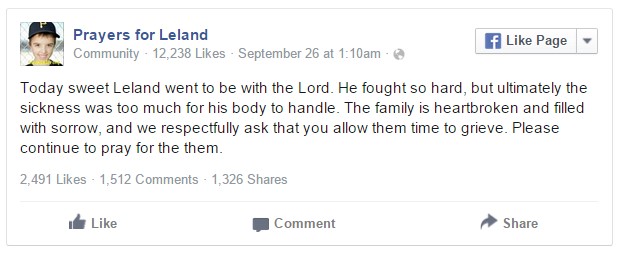 The 'goodbye' note written by little Leland and left on the family's living-room table. His parents found it when they returned from hospital following their son's death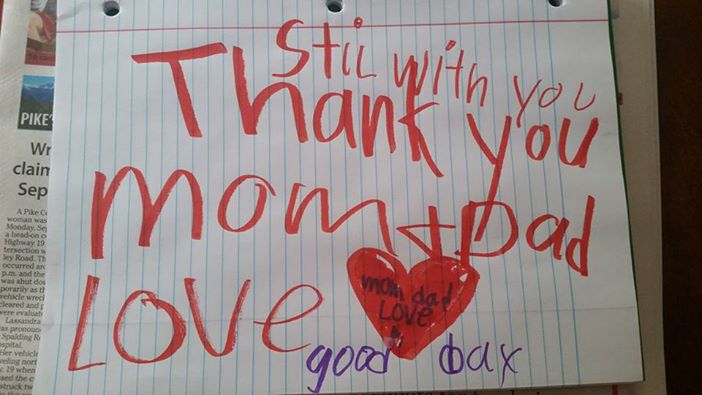 Leland's mother, Amber Shoemake, posted to a Facebook page set up for her son: 'When Tim and I came home for the first time to get him clothes to be buried in, this is the note we found from him on the table in the living room. 
'We have no idea when he wrote it but you can tell he was always a special child. 
'We will love you forever Leland. Sleep tight and don't let the bed bugs bite!'
Leland, who had a younger brother, died from an infection caused by the amoeba Balamuthia mandrillaris. His mother suggested he may have contracted it while playing outside.
'The one thing he loved most was playing in the dirt,' Mrs Shoemake wrote on her Facebook post. 'I never imagined that would be the thing that would take him from me. 
'He was my world. He made me a mother. We struggled so hard to have him. He was a preemie baby but came out screaming and healthy.' 
The grieving mom added: 'No one should ever have to bury a child. I always said I hope it's me that goes first (because) I don't think I'm strong enough to handle something like this. 
'It still doesn't seem real to me.'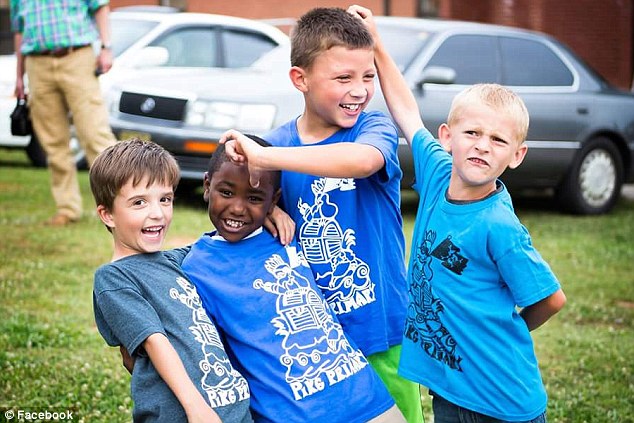 Leland Shoemake (left) is seen here with some of his friends in a photo posted to Facebook
Before his death, Leland's family set up a GoFundMe page to help contribute to the medical costs.
They will now use the donations to pay for Leland's funeral service, which was held on Monday. 
Mrs Shoemake had posted on the page the intense treatment her son was forced to go through.
At first doctors were baffled by his illness and initially suspected meningitis before confirming the amebic infection in his brain. 
His mom wrote ten days ago: 'He has several teams of multiple doctors working with him and treating him. He's on 10 different medications and they all have terrible side effects.
'He has had bad headaches, fever, vomiting, diarrhea, dizziness, and now his eyes are crossed and he can't focus on anything without his eyes moving and seeing double.
'The thing we ask for most is prayers for fast healing, smart doctors, less pain, and no long-term effects.'
The Pike County community held a vigil for Leland last Tuesday night WSB-TV reported