Littering might seem like a victimless crime, but depending on what's carelessly thrown on the ground, it can hurt more than just the environment.
Police officials around the country are warning community members about what seem to be harmless empty bottles with "white or brown sludge" on the inside.
Most recently, the Bangor Police Department posted a photo on Facebook of what someone found while walking on a footpath in town. Within hours, the post was shared by nearly 4,000 people online.
The post reads, in part:
"She [local educator] had recently been educated about the spike in small batch cooking of methamphetamine and knew when she saw these bottles, coupled with the empty box of Sudafed, that it could be exactly what had been happening."
Apparently, the "shake and bake" version of meth creation isn't new to officials. Also referred to as "one-pot cooking," the process of making methamphetamine has been simplified in recent years.
Drug makers reportedly place household items like cold medicine, beads from ice packs, lithium strips from batteries, and even lighter fluid in an empty bottle to create meth.
One they've shaken up the concoction and used the drug, officials say the leftovers could easily pass for litter, rather than remnants of a criminal act.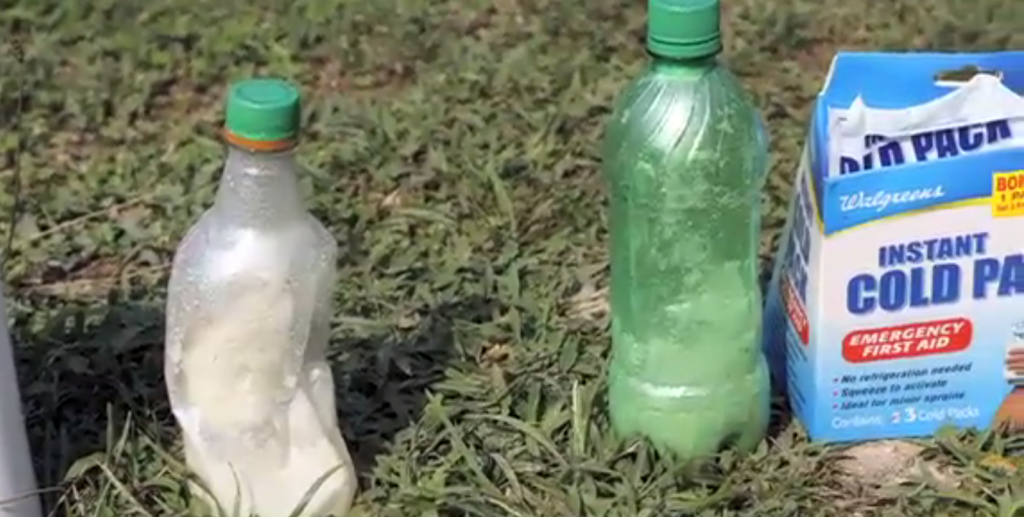 And these remnants are polluting communities across the country.
"They get done and throw it out in ditches, on the side of the road, in lakes," a Tennessee sheriff, Bill Bivens, tells the Knoxville News Sentinel. "It [the meth process] has gone from a whole room to a backpack."
The Bangor Police Department continues to warn people, especially children, not to pick up what they perceive as "returnable" bottles.
"The residue can be brown and white and appears like a sludge inside the bottles. Any sludge in a bottle is the exact moment when I make a decision not to pick it up, so don't depend on the color as your red flag. Avoid it. Advise your kids and keep an eye out for these scenes on footpaths and wooded areas around the area."
While meth use overall is down from years past, according to a 2012 report by the National Institute of Drug Abuse, instances of meth abuse range depending on region. The West and Midwest are apparently two regions where the drug is most commonly used.
So the next time you come across an empty bottle on the ground with some "sludge" in it, take notes from the Bangor Police Department — leave it there and call your local authorities.