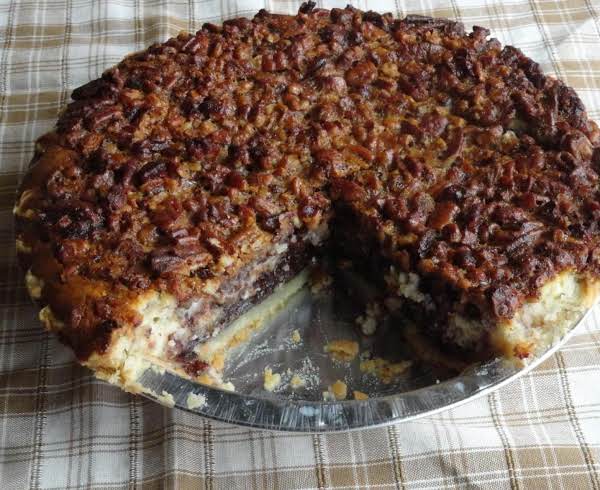 Ingredients
1 deep dish pie shell
1 c dark chocolate chips
3 Tbsp whipping cream
8 oz cream cheese
3/4 c sugar – divided
2 tsp vanilla extract
4eggs
1/4 tsp salt
3 Tbsp melted butter
1 c light corn syrup
1 1/2 c pecan halves
Directions
Fill pie plate with crust or defrost frozen deep dish crust
Beat cream cheese, 1 egg, 1/2 c. sugar, salt and 1 teaspoon of vanilla until smooth.
Pour dark chocolate chips into microwaveable dish and add the whipping cream. Microwave on 50% power until morsels just start to melt (about 1 minute). Remove from microwave and stir with a fork until combined and smooth.
Pour corn syrup, melted butter, 3 eggs, 1 teaspoon vanilla and 1/4 cup of sugar into medium bowl and whisk until thoroughly combined.
Stir in pecans.
Pour chocolate mixture into pie crust and smooth out with a spatula until evenly distributed. Pour cream cheese mixture over chocolate and smooth out until evenly distributed, then pour pecan mixture over cream cheese mixture and even out on top of the cream cheese mixture.
Bake in a preheated 350 degree oven for 55 minutes (or until set). Cool completely on a wire rack. Store leftovers (if you have any!)in refrigerator.