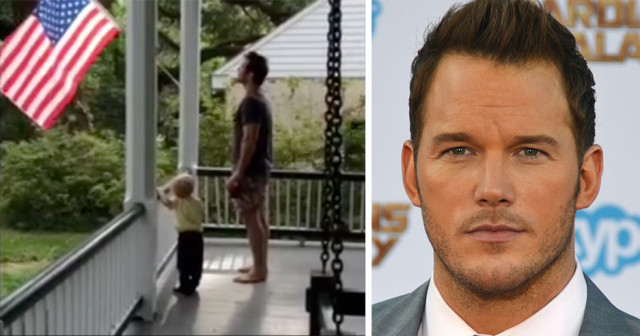 Chris Pratt has enjoyed a meteoric rise in popularity in recent years. Following his recurring role on the popular television show "Parks and Recreation," Pratt has appeared in a string of blockbuster movies including Zero Dark Thirty, Guardians of the Galaxy and the upcoming Jurassic Park film.
[Scroll Down For Video]
However, it's not Pratt's onscreen presence that is getting the internet's attention. No, it's a 34 second video the actor posted to his Facebook page.
In the video, we see Pratt teaching his young son the Pledge of Allegiance. The video has amassed nearly a million views in less than 24 hours
Pratt posted the following message along with the video:
Meant to post this on #MemorialDay but I was in China and my phone wasn't working. I'm proud to be American. I'm blessed to get to travel the world! #IPledgeAllegiance