Put your hand in the air if you hate it when you are eating out and a stranger decides to have a heart attack right beside you. You think it's completely selfish right? No, of course you don't, any normal person would never have this reaction. Your instant reaction would be to make sure that your fellow diner is okay, not whether your cheese fries are going cold. Evidently not every individual shares my view.
Holy Jones was dining at Kilroy's Bar N' Grill on New Year's Eve when a woman, who is rumoured to be over the age of 70, had a heart attack. Strangely Jones was completely disgusted when staff went to the aid of the dying lady. She was so outraged by the restaurant's actions, where she had spent over $700, she went on an epic misinformed Facebook rant.

Are you appalled by this woman's words? Yeah me too. Do not fear everybody the manager of the restaurant, Chris Burton, responded with some fine words of his own. After all Jones did sound extremely concerned for the woman's safety in her pos – said no one ever.


Jones has subsequently deleted her account and claims that the post was the work of hackers. Maybe it was or maybe the hair stylist has decided to go down the hacking route after her bosses at Serenity Salon, Indianapolis received a bombardment of calls requesting that she be fired.

The salon have since donated $500 via a GoFundMe page to the lady who suffered the cardiac arrest (pictured above) to help her cover the cost of medical bills.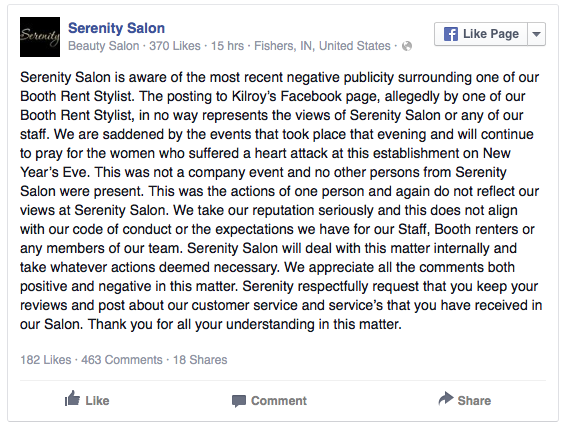 So what have we learnt from this ladies and gents? Firstly, we should probably never accuse someone of being a "junkie" before we know for certain that they are. And secondly, we should never share these views with Facebook because you will get eaten alive.