The clothes were scattered over the bonnet and roof of the 4X4 with a sign offering them to a "good home"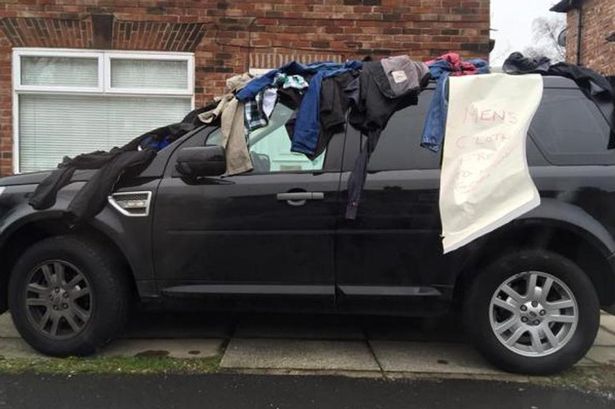 New Year's Eve is always a time when people announce resolutions to make certain changes in their lives but few people will have taken it to these lengths.
This photo shows how a suspected scorned woman got revenge on her man by dumping his clothes on top of a car parked on the street.
In the snap, which has been shared on Facebook , shows a collection of shirts and trousers dumped on the roof and bonnet of a black 4X4 vehicle.
Attached to the car is a white piece of paper or cloth with a message, apparently written in fiery red ink.
It says: "Men's clothes – free to a good home".
Although it is unclear why the clothes have been dumped on the car or when, it has been speculated that it is the handiwork of a scorned woman.
According to the Bolton News, the car was photographed outside a home in Charles Street in Leigh on New Year's Eve and no-one has yet come forward to clarify what has happened and why.