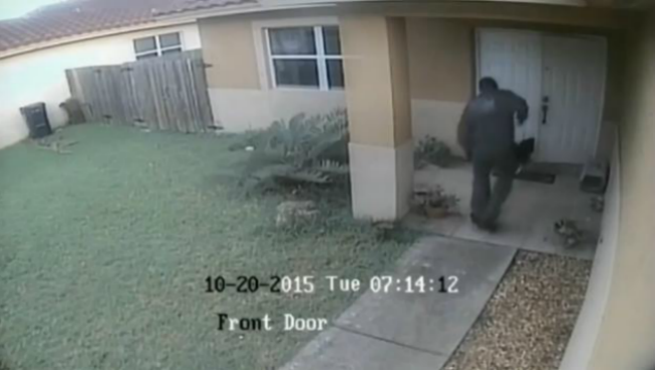 The graphic video below shows a trigger-happy Florida police officer shooting a 2-year-old rescue bulldog mix three times in the head, killing her instantly.
Gillian Palacios of Florida City claims the cop, later identified as Marcus Terry, knocked on her door to let her know her car doors were left open. When Palacios opened the front door, Duchess, a 40-pound bulldog mix, excitedly ran toward the officer and was met with gunshots that instantly killed her, WPLG reports.
Duchess' owner claims the officer told her the dog "charged me" and let her know that Animal Services would retrieve the dog's body. Palacios told the station, "[Duchess] was curious. She wasn't barking [and] she wasn't growling. There was no reason for him to think she was aggressive in any way."
Not only was the cop not responding to a call at the house, but there was no disturbance either. Palacios told CBS Miami that the car doors were open because she was preparing her other dog for a morning trip to the vet.
Though Palacios' daughter Raphael says the cop needs to take responsibility for the incident, Florida City Police Department public information officer Ken Armenteros believes the officer responded appropriately, given only a split second to act.
"We don't have the luxury of hindsight," Armenteros commented. "We have to use the information that is given to us in a split second so the officer has to make that decision with the information that he has available."
Pending a police investigation, Terry has been placed on administrative leave.
video platformvideo managementvideo solutionsvideo player