A woman spiked her husband's Christmas drink of cherry Lambrini with anti-freeze in an attempt to murder him, a court heard.
Jacqueline Patrick, 54, has pleaded guilty at Inner London Crown Court to two counts of attempted murder of husband Douglas – once in October 2013 and again in Christmas Day 2013.
Her 21-year-old daughter, Katherine has admitted to one count of inciting another to administer a noxious substance.
Mr Patrick, 70, had been admitted to Kings College Hospital by ambulance on Boxing Day having collapsed at the family home.
While travelling to the hospital, his wife showed paramedics a typed note which she told them was from her husband asking not to be revived but to be allowed to die with dignity.
He was placed into an induced coma and tests found that he was suffering from anti-freeze poisoning.
Hospital staff called police when Mrs Patrick told them he may have drunk the blue liquid by mistake – a comment she only made after the diagnosis was made.
Analysis of the 'do not revive' note showed a misspelling of the word dignity as 'dignerty'. When asked to write the word, she got it wrong again.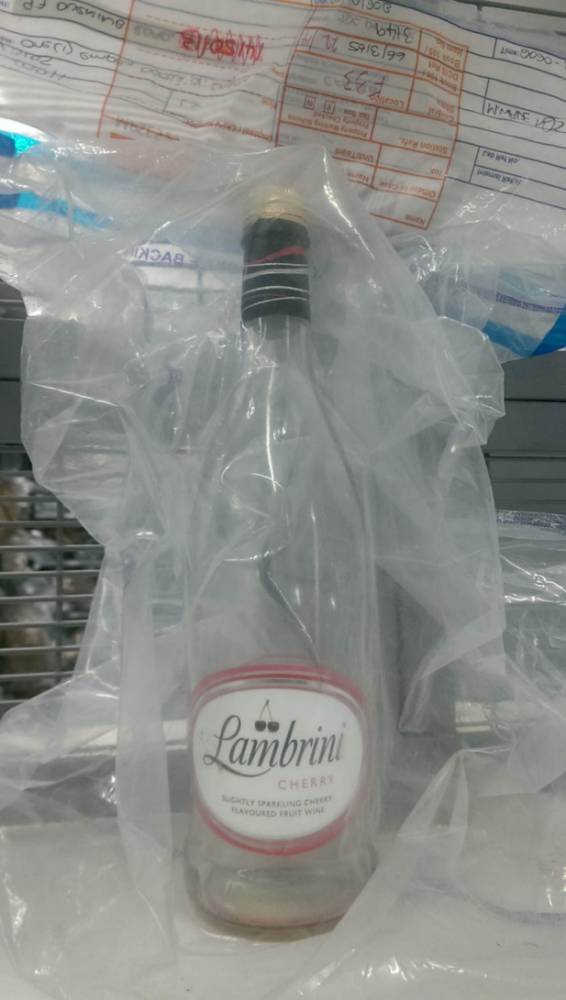 The recovered bottle of Cherry Lambrinin(Picture: SWNS)
Mobile phones belonging to both Jacqueline and Katherine Patrick, also of Durning Road, were seized and revealed numerous text messages between the pair, discussing three separate attempts to poison the victim between October 26 and December 26 2013.
Investigating officer detective inspector Tracey Miller, from Lambeth police, said: 'At a time when a family should be celebrating the festive season, Patrick was plotting how to get rid of her husband once and for all, aided by her daughter.
'Motivated, it is thought, by family tension and arguments between herself and her husband and the victim and their daughters, she spiked his Christmas Day drink with anti-freeze.
'Mr Patrick came very close to dying and while he lay in his hospital bed fighting for his life, his wife told lie after lie to cover her tracks. Perhaps most shocking of all was the note she gave to the London Ambulance Service purporting to be from her husband, stating that he did not wish to be resuscitated.'
Both women have been bailed ahead of sentencing which will take place on November 2 at Inner London Crown Court.