A young woman who was told she was "too ugly to love" and "undateable" is proudly showing off her facial birthmark in a series of selfies.
Lexxie Harford has had the purple mark since she was born, but first realised she was "different" at nine years old. As a result, she says, she spent her teenage years covering her birthmark with make-up.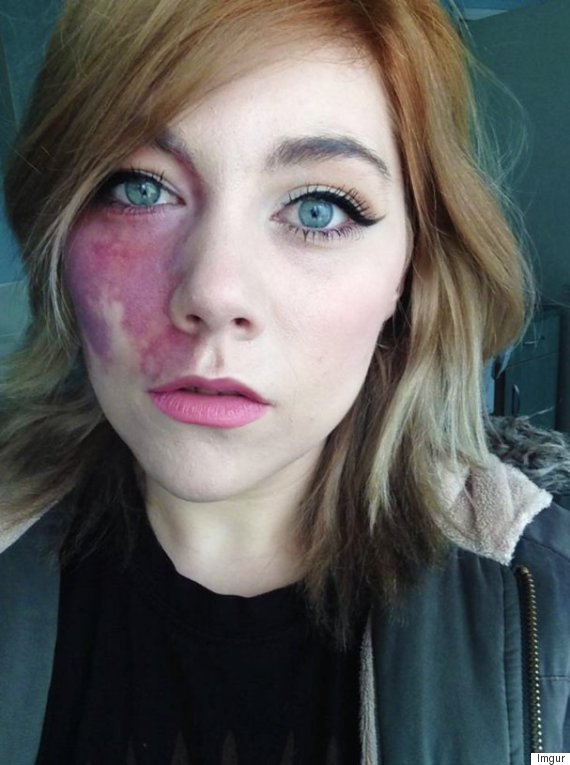 The 23-year-old posted a series of candid photos online to debunk myths around birthmarks, show how to cover them up and to tell the world she is happy with the way she looks. The post has been viewed more than 100,000 times (and counting).
Harford, who also has one blue and green eye, said she has been contacted by TLC's 'Too Ugly For Love' and Channel 4's 'The Undateables', but turned both offers down.
"I'm absolutely not self conscious about it at all. I actually like it a lot," she said in the post.
"A lot of people think it's a bruise," she added. "The whole thing that I want to do is teach people what a birthmark is so they don't think it's a bruise – and people might feel more comfortable showing it off."
Many commenters came out in support of the way she looks.
One wrote: "I love your eyes :)"
Another added: "Good god, you're attractive."
One user wrote: "Gal I went to school with had one like yours. I regret often how I treated her. I don't know her now, though i hope she is well and happy."
To which Harford replied: "This post made me happy. Like, in the way of you admitting that. I hope she's happy too, but also proud of you. :)"