A family in Kernersville North Carolina trusted their friend to babysit their 2-year old daughter in 2013, a decision they will likely regret for the rest of their lives. The husband of the babysitter physically abused the child of Craig and Leigh Hollar in a Hardy's bathroom. According to the father's Facebook post, the abuser Christopher Kyle Fox, "beat the toddler with a metal end of a belt buckle leaving welts all over her back and butt then smashed her head into the wall bruising her forehead & bloodying her nose. He then left her lying in a pool of throw up and blood." A Hardy's employee witness the abuse and called police.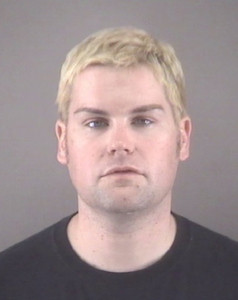 After an investigation, the Forsyth County Sheriff's Office had enough evidence and witnesses to proceed with charges in May 2014.  Kyle Christopher Fox was charged with misdemeanor child abuse on May 9, 2014. He was arrested by the Winston-Salem Police Department on May 24, 2014. The trial was continued in court for almost two years, but Wednesday morning the family was told that the charges against the man who beat their child bloody have been dropped. A witness, who has shown up 11 times before, didn't show up for the trial.
Craig Hollar was outraged.  "I'm supposed to let the court system handle it and the court system failed. I could have done a better job myself. And I promise you he'd never have hurt another child again." he told Fox news 8
The furious father took to Facebook and made a plea. He posted the pictures of this abused daughter with a message describing the incident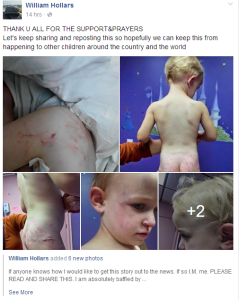 He ended the post saying,
"The point of this story is I want justice for my daughter and apparently in Forsyth County it's illegal to get into a fight with another adult it's a felony to mess with an animal, but u can abuse beat and hospitalize a child and walk scot-free. So what I want to say to Forsyth County Winston Salem courthouse judges police anybody who supposedly enforces the law is, YOU FAILED. our justice system failed. Please share this I want justice for Carleigh Ann Hollars."
The post went viral and was shared for than 50,000 times in just 24 hours. Only 30 minutes after the family contacted the news to share their story, Leigh Hollar got a phone call saying the case was going to be re-opened.
The District Attorney announced in a press release Thursday that Fox will be re-charged and this time, he's also facing a felony.
"Kyle C. Fox was re-charged today with one count of misdemeanor child abuse, as well as the additional charges of felony assault by strangulation and misdemeanor assault on a child under the age of 12," the press release read.
The family will finally get the justice they have been waiting for.
"Trust the Lord. He'll take care of it; you don't always understand why things happen the way they happen, but he has a reason for it," Leigh Hollar said.
Unfortunately, Fox has not turned himself in yet, but with his face being circulated around the internet, I don't think he will be avoiding police much longer. Authorities are asking that if you see Kyle Christopher Fox do not approach him, just call 911.