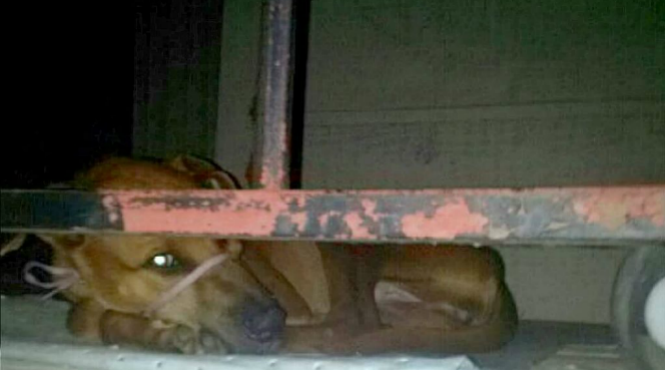 A Texas woman is confused as to why she was arrested for documenting the possible abuse of a nearby dog.
Amber Cammack took pictures of a dog that had been confined to a porch in a diaper, with a string tied around its muzzle. What she got was a 14-hour stint in jail for harassment and including personal information in the Facebook posts.
According to Click 2 Houston, the six-month-old mixed-breed pup named June was staying with Cammack's neighbor, Karess Buckman, for that week. Buckman told the station that no neighbor "attempted to knock on the door, ask about the dog, inquire about the dog or any of the above."
"The diaper was due to the dog having loose stool," Buckman explained. "We didn't want it to drip down on the neighbor below because she had urinated."
Cammack, a passionate dog lover, claims she was threatened with arrest by the sheriff after her posts began to gain traction.
"When the sheriff himself calls you and threatens you with arrest, that is an extreme chill on your right to freedom of expression," her attorney, Randall Kallinen said.
Police spokesperson Ryan Sullivan told Chron, however, that Cammack has been involved in "continuous harassment of the residents."
And while Cammack was determined to expose the alleged dog abuse, Harris County District Attorney Devon Anderson said the story has a happy ending: no charges for animal cruelty will be filed because he found no evidence of it. Still, he acknowledges, "The pictures are bad. I'm a dog owner. You'll never see my dog with a muzzle, or stuck on a porch with a diaper. Nobody in this office condones that or thinks that person was properly caring for that dog."
Fortunately, Cammack won't face any formal charges either.  However, she wants an apology because while her means to get action may be unfavorable, Cammack claimed she has tried every other avenue.
"I was treated like a hardcore murderer-felon. I was thrown in a tank with the rest of murderers, the drug dealers," Cammack said, according to KHOU-TV. "I'm disgusted with the fact that I can't report a crime and nobody's helped the dog."