The biscuits are designed to give the polar bear biscuits a pleasing smile and a bright red scarf – but customers think they have a slightly sinister look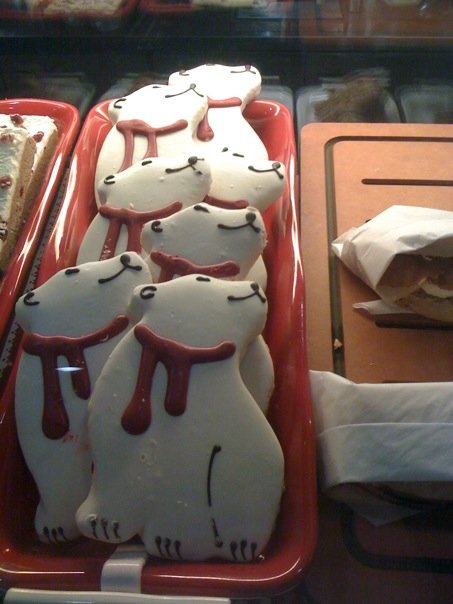 photo credit: Imgur


These polar bear cookies at Starbucks look like they've all had their throats slit.
Coffee giant Starbucks has made a range of Christmas polar bear biscuits that look unexpectedly terrifying.
The cute cookies are designed to give the animals a pleasing smile and a bright red scarf around their necks.
But, as one eagle-eyed Imgur user pointed out, the actually look like they have had their throats cut.
The scarves look like a bright red slash across each bear's neck, while the two ends look like terrifying rivers of blood.
Other social media users were quick to post jocular replies.
Watcher on the Wall posted: "The happiest massacre I've ever seen."
The Black Shakes said: "They don't seem to be bothered by it, though."
While Wabback added:"Looks like the polar bear researcher got revenge."
And in a cheeky Game of Thrones reference, Super Duper Yooper joshed: "The Lannisters send their regards."